San Michele Faigolo Fubia Navene Tour
Short Description
Name
San Michele Faigolo Fubia Navene Tour
Duration
3h
Length
25,43 Km
Elevation
Descent
Type of bike
Road Bike
Trekking
XC Front
E-Bike
Enduro
E-Bike Fully

You will leave the lake behind you and climb up to San Michele.
You will continue to Faigolo and then descend to Fubia.
A sometimes challenging but nice single track will be waiting for you with superb views over the lake.
You will arrive at the town of Castello where you can cycle onto a fun ring route.
Finally you will go down to Navene, where you can have a drink in front of the lake.
You will return to Malcesine on the bicycle lane.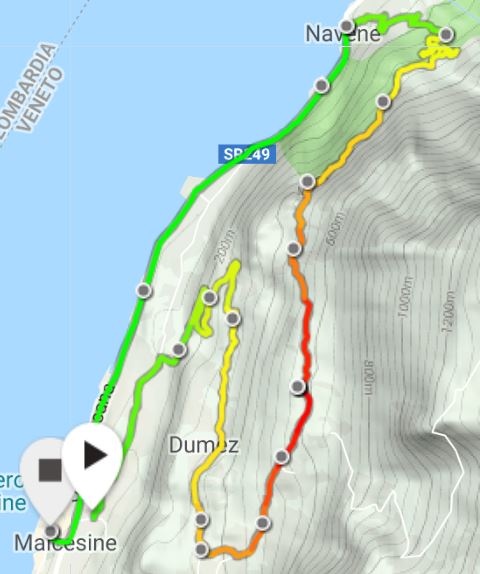 DEPARTURE AND RETURN
Meeting at 8:30 am in Malcesine at Bike Xxxtreme, Via Navene Vecchia N°10 Via Navene Vecchia No. 10 (next to the cable car).
Departure at 8:45 am
Return at 12:00
PARTICIPATION FEE
From € 40,00 to € 55,00 (it may vary depending on the number of participants). Minimum number of participants: 2 people. Maximum number of participants: 7 people.
The rate does not include bike rental. For those interested in renting, please specify this when booking.
Reservations are preferable within 2 days of the tour departure date.
The guide reserves the right to modify the itinerary depending on weather conditions or if the safety of the group makes it necessary
Timetables may be subject to some changes and the return time is indicative.
The fee does not include travel costs to reach the place of departure and return, to be paid independently, lunch and any extras. For those interested in renting, please specify this when booking.
Our itineraries are designed only by qualified environmental guides who will accompany you and assist you throughout the journey and will be glad to answer your questions.
| Equipment | Required | Recommended |
| --- | --- | --- |
| Helmet | | |
| Gloves | | |
| Glasses | | |
| Backpack | | |
| Knee pads | | |
| Windproof jacket | | |
| Snack | | |
| Adequate water supply | | |